Eflare Corporation Pty Ltd is pleased to announce that New York City Transit (NYCT) has ordered 22,000 Eflare safety beacons to assist in protecting its maintenance personnel working on underground rail tracks in New York City.  The order comes after three and a half years of evaluation of the product by NYCT. All Hands Fire Equipment LLC, one of Eflare's distribution partners in USA, was awarded a 27-month Contract starting on January 18th 2019.
Eflare beacons were originally developed for Victoria Police in Australia to assist in protecting police working on the roads at night.  The beacons are compact and durable, and incorporate advanced LED technology coupled with a sophisticated lens design to maximise beam intensity. 
For the last 20 years Eflares have been sold all over the world into various markets.  The key users are emergency services, mining, aviation, industrial and transport and rail.  Since the launch of its original design Eflare has continued to develop its beacons to ensure they remain the market leader in quality, performance and durability.
Eflare is now a world leader in its field and has sold more than 500,000 beacons into over 20 countries. The beacon is available in over 80 product variations and is now in use with over 100 Police, Fire and Emergency Services worldwide.  It is protected by 21 patents, trademarks and design registrations in all major markets.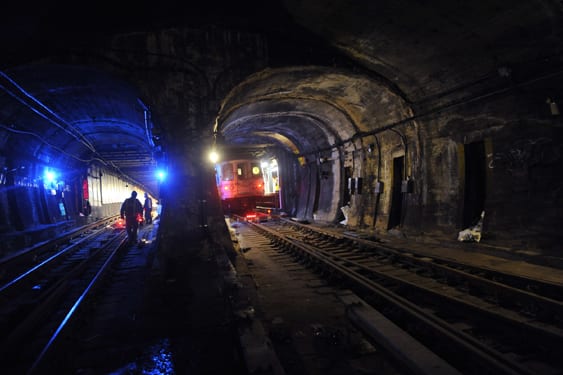 Eflare beacons were introduced to the NYCT in 2015. Following the initial introduction and use by NYCT, Eflare was asked to modify its standard beacons to develop a flagging lantern that specifically suited the needs of NYCT.  Eflare was the only vendor that could meet NYCT's stringent specifications (New York City Transit Specification for Light Emitting Diode (LED) Flagging Lantern - Section 82A).
The modified Eflare was designed to meet NYCT's very detailed requirements in relation to light beam profile, durability, battery life and lens/body design. Once the modified beacon was developed the initial units were sent to NYCT for extensive field testing.  At the same time the beacons were tested in two independent accredited laboratories to ensure they met the NYCT specification.
Following the 18-month process of design and independent testing the new beacons have been formally approved by NYCT and the beacons have been added to NYCT's Qualified Products List (QPL).
This new Flagging Lantern Design has been identified by numerous transit agencies as the next generation Flagging Lantern.
In line with the rest of the Eflare product range the NYCT beacon has also been independently accredited to be intrinsically safe to a global ATEX and IECEx certification.
Eflare has partnered with Protective Industrial Products Inc (www.pipglobal.com) who are our exclusive master distributor, for over 15 years in North America. The commitment to Eflare by Protective Industrial Products Inc and their distribution partner All Hands Fire Equipment LLC over the years has made this all possible and we thank both of them for their support.
For detailed specifications or to purchase the product please visit: http://www.allhandsfire.com/New-York-City-Transit-Spec-E-Flare-Flagging-Lantern